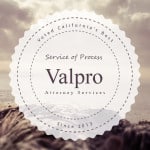 Website Valpro Attorney Services
Independent Process Server Jobs
Valpro Attorney Services greatest asset is our team, we work together to achieve the company's goals. We provide a collegial work environment that encourages the exchange of ideas. We seek achievement-oriented individuals with leadership potential and the ability to balance the demands of legal services with other interests and responsibilities.
Each day we receive multiple applications sent by individuals from all walks of life. Most are eager to make a career change or would like to further their careers as an established process server. Our goal is to have Process Servers that can uphold our reputation for excellence in the legal community. Therefore, we expect our contract process servers to go above and beyond in customer service and strive for quality in everything they do.
What is expected of a Valpro Attorney Services independent contract process server?
Valpro Attorney Services pre-screens each applicant to ensure that he/she holds proper process server registration. Although experience is not a requirement as training is provided, it is certainly a plus. Most of our contractors are private investigators, ex-law enforcement, security guards, etc. Whatever the case may be, we expect our process servers to use sound judgment and common sense when out in the field. Making a diligent effort on each service attempt and most importantly upholding a professional demeanor while performing on a job is of utmost importance to our values.
You MUST meet the following requirements and we do require a copy on file.
Registered Process Server
Bonded
Smart Phone
Valid Driver's License
Current Auto Insurance
Available by phone daily
Valpro Attorney Services is the most dynamic attorney service firm with an enviable roster of clients. We encourage individuals who are seeking a challenging and rewarding career to contact us or send a resume to Service@ValproAttorneyServices.com .
By mail submit your cover letter and resume to:
Hiring Director
Valpro Attorney Services
1500 W. EL Camino Avenue #510
Sacramento CA 95833
Please allow 3-5 business days for someone to contact you. If selected, our office will contact you with further information on how to proceed. We thank you for your interest in becoming a Independent Process Server and we look forward to working with you!